I love this movie to death!!!!! Primarily because I am the type of woman who enjoys both the romantic and the action genre. If I can sit through a sweet, gushy romantic film... with a high blood count... I am good to go! LOL
Butter Tiger Prawns
Recipe Courtesy of About.com:Chinese Food
Serves 4
Prep Time: 10 minutes
Cook Time: 15 minutes
Total Time: 25 minutes
Ingredients:
* 1 pound tiger prawns, fresh or frozen
* 1 cup oil, for poaching prawns
* 1 stick (4 ounces) unsalted butter
* 1 sprig curry leaves, or to taste (each sprig has about 16 leaves)
* 1 teaspoon Chinese rice wine or dry sherry
* 1 teaspoon granulated sugar
* 1/4 teaspoon chili paste with garlic, or to taste
* 3 tablespoons unsweetened coconut milk
* Black pepper, to taste
* 2 tablespoons chopped fresh cilantro, for garnish
Preparation:
Rinse the prawns under warm running water and pat dry with paper towels. Remove the shells from the prawns but leave on the tails.
Heat 1 cup oil to 350 degrees. When the oil is hot, add the prawns. Briefly cook the prawns in the hot oil until they turn pink (about 1 minute). Remove and drain on paper towels.
Melt the butter in a wok or heavy frying pan over medium-high to high heat. Add the curry leaves. Cook briefly, then stir in the oil-poached prawns, Chinese rice wine, sugar, and chile paste.
Stir-fry for about 2 minutes, then add the coconut milk. Heat through. Taste and sprinkle with black pepper, if desired. To serve, garnish the butter prawns with the chopped cilantro leaves.
Each serving contains: Calories 354, 2 g Carbohydrates, 19 g Protein, 30 g Fat, 237 mg Cholesterol, trace Fibre, 210 mg Sodium, 210 mg Potassium.
Dragon & Phoenix
Recipe Courtesy of Big Oven
Ingredients
* 8 oz Fresh peeled and deveined
* 2 ts Cornstarch
* 1/4 ts Ground red pepper
* 2 md Boneless; skinless, chicken
* 1/2 c Water
* 2 tb Soy sauce
* 1 tb Oyster sauce
* 2 tb Dry sherry
* 2 ts Cornstarch
* 1/2 ts Instant chicken bouillon
* 1 tb Cooking oil
* 2 Cloves garlic; minced
* 1 c Thinly sliced carrot half
* 1 c Broccoli florets
* 1/2 cn (8-oz) sliced bamboo shoots;
* 1 ts Sesame seed; toasted
* 3 c Hot cooked rice
Preparation
1. Rinse shrimp. Halve the shrimp lengthwise; pat dry with paper towels. Combine 2 tsp cornstarch and red pepper; toss with shrimp. Set aside. Rinse the chicken and pat dry. Cut into 3/4-inch pieces; set aside. For sauce, in a small bowl, stir together the water, soy sauce, dry sherry, oyster sauce, 2 tsp cornstarch, and chicken bouillon granules. Set aside. 2. Pour cooking oil into a wok or large skillet. (Add more oil as necessary during cooking.) Preheat over medium-high heat. Stir-fry garlic in hot oil for 15 seconds. Add carrot and broccoli; stir -fry for 3 to 4 minutes or till vegetables are crisp tender. Remove vegetables from wok. Add the chicken to the hot wok. Stir-fry for 2-3 minutes or until no pink remains. Remove the chicken from the wok. Add shrimp and stir-fry for 2-3 minutes or till shrimp turn pink. Return chicken to the wok. Push the chicken and shrimp from the center of the wok. Stir sauce. Add the sauce to the center of the wok. Cook and stir till thickened and bubbly. 3. Return the cooked vegetables to the wok. Add the bamboo shoots. Stir all ingredients together to coat with sauce. Cook and stir about one minute more or until heated through. If desired, sprinkle with toasted sesame seed. Serve immediately over hot cooked rice. Makes 4 servings.
**Notes: I usually double the shrimp and chicken and triple the sauce. (And thats just for two people!!!!)
Jade Cocktail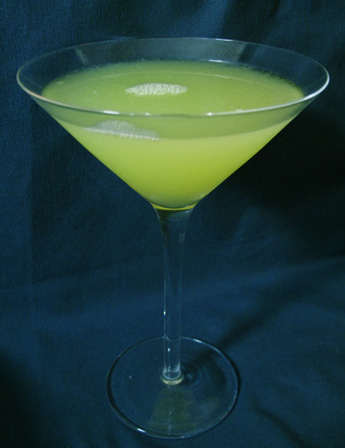 Recipe Courtesy of eHow.com
Ingredients:
* 1/4 measure Midori
* 1/4 measure blue Curacao
* 1/4 measure lime juice
* dash Angostura bitters
* champagne, chilled
* cracked ice cubes
* slice of lime, to decorate
Step 1 - Shake the Midori, Curacao, lime juice and Angostura bitters vigorously over ice until well frosted.
Step 2 - Strain into a chilled flute.
Step 3 - Top up with chilled champagne and dress with a slice of lime.