Now that I am gainfully employed, I promise not to spend my first paycheck before I get it, but I have to be honest: these gorgeous jewels are temptin' me -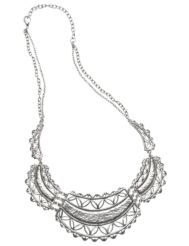 I am so in love with this lace-inspired filigree Burnished Bib Necklace from
Lane Bryant
. Priced at a mere $29.50, it's a fantastic way to spice up your wardrobe.
These Summerfest Chandelier Earrings from
Lulu's
are a blast of Sunshine that will get you through the dreariest parts of fall and winter. And with a price like $9, you'll still have cash to do your holiday shopping!
I love peacocks, so these earrings are definitely going in my wishlist! Priced at $24, these earring are available from
Urban Outfitters
.
And since you've saved so much moola on these jewels, why not treat yourself to a stylish jewelry case
AND
help out women in need at the same time?
Made by Pushpanjali, a fair trade organization in Agra, India for
Global Girlfriend
, The Taj Mahal Jewelry Box is $22, and with each box purchased, Global Girlfriend will fund 1.0 percent of a microgrant for a woman in a rural community in Africa to launch a small business, through Camfed.