Handbags are my guilty pleasure. I won't even tell y'all how many bags I own, suffice to say that they are hanging everywhere in my room and in my closet. LOL
My taste in bags tends to dwell in hobo-bohemian land, but lately, I've been dying to try out small bags and clutches, just because I think they are classy, beautiful and feminine. Here are a few that have recently caught my eye:
The Bahama Mama Clutch in Blue ($30,
Lulu's
) is sooo me. I love that it is really summer-y and colorful, but can be used year round for a gorgeous splash of color. The cool thing is that you can slip the clutch around your wrist with the turquoise leather belt loop on the side, which is perfect for newbies like me, not used to carrying clutches.
Another great option for first-timers like me is the Bag Habits Clutch ($59,
Nine West
)Patent fold over clutch with contrast trim, nylon lining and double pockets. This clutch can also be used as a small tote.
Kimchi Blue Suede Ruffle Clutch ($68,
Urban Outfitters
) is a big bag in a small frame. It has a lined main compartment with internal organizer pocket and cell phone/mp3 holder.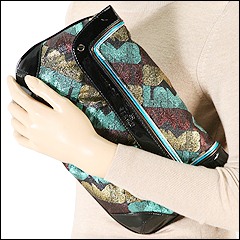 This L.A.M.B. Angel Madeline clutch ($153,
Zappos
)is perfect for going out at night. It's cute as hell and I am loving the sparkling color combination! I just wish that Gwen Stefani would consider her full figured fans out there. If she did, I might consider shelling out this much money for a bag.. especially when I know there's an outfit to match!
This clutch by Ellie Tahari ($290.14,
Zappos
)is one I call a "Joan Bag" (translation: handbag similar to the type worn by the Tracee Ellis Ross character on "Girlfriends"). It's pretty pricey, but still a very cute bag.