I love music, I love concerts and most important.. I like paying a small amount of money (or not paying anything!!) to go to them! LOL
One of the best things about living in NYC is the ample supply of free or low cost concerts that happen during the summer!!!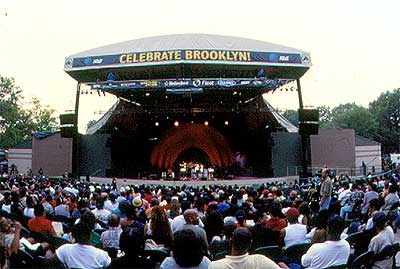 So if you live in NYC or plan on visiting this summer, be sure to check out the concerts Irm really excited about seeing (You may run into me!)
Living Colour, Ebony Bones!, Pillow Theory and CX KiDTRONiK
Saturday, June 5, 2010 3:00PM
Rumsey Playfield, Central Park
Classic BRC legends Living Colour usher in a new generation of African-American rock stars.
Celebrate Emancipation Day with CODY CHESNUTT
Saturday, July 3, 2010 6:00 PM (doors open @ 4)
$5.00 Suggested Donation
Weeksville Heritage Center
Historic Hunterfly Road Houses
1698 Bergen Street
(between Buffalo Avenue and Rochester Avenue)
Brooklyn, NY 11213
Celebrate the day enslaved Africans were freed in New York with the return of celebrated rocker Cody ChesnuTT. (Though freed on July 4, 1827, because of threats of violence, African-Americans in New York City celebrated this important holiday outdoors on July 5th) This year's celebration will include a discussion on Haiti @ 4pm, music by Cody ChesnuTT @ 6pm (in his FIRST NY performance in 4 Years!) and the film Secondhand (Pepe) screening @ 8pm. The vendors for this event are NY Dosa & Wafels and Dinges.
Celebrate Brooklyn! Presents OkayAfrica with The Roots and Talib Kweli
Sunday, July 11, 2010 7:30 PM
$3.00 Suggested Donation
Prospect Park Bandshell
The Bandshell is located inside the Park at Prospect Park West and 9th Street.
The Roots headline the OkayAfrica World Cup 2010 Finals party to celebrate the first time in its 80-year history the tournament will take place on African soil. With a kick-off by Sahr Ngaujah, the star of the hit Broadway musical Fela!, the show features performances by artists from all corners of the Diaspora, including host Talib Kweli (Brooklyn), Bajah + The Dry Eye Crew (Sierra Leone), Blitz the Ambassador (Ghana), and many others to be announced. Musically omnivorous hip-hop icons The Roots honor the fresh music of Africa jamming throughout the day with surprise guests and capping it all off with a closing set.
Raphael Saadiq, Aloe Blacc, and Special Guests
Saturday, July 17, 2010 3:00PM
Rumsey Playfield, Central Park
Award-winning songwriting/producer/performer Raphael Saadiq brings new meaning to old soul.

Raphael Saadiq is a standard bearer for 'old school' soul, a contemporary artist continuing the time-honored American tradition rooted in the sounds of '60s and '70s. From his early days as a member of the groundbreaking '80s group Tony! Toni! Toné!, through his work as an award-winning producer for Joss Stone, The Roots, Snoop Dogg, and John Legend, and in his own perfectly crafted solo albums, the multi-talented Saadiq has kept the faith. His latest release, the three-time Grammy-nominated The Way I See It, was named the Album of the Year by iTunes. While other contemporary artists may attempt to emulate the sound and flavor of soul, Saadiq brings real emotion and production values that are simply "right on."
Celebrate Brooklyn! Presents Daptone Review: Sharon Jones & the Dap-Kings
with Budos Band
Saturday, August 7, 7:30 PM
$3.00 Suggested Donation
Prospect Park Bandshell
The Bandshell is located inside the Park at Prospect Park West and 9th Street.
The Bushwick label Daptone Records, long committed to bringing you the finest soul, funk, gospel and afrobeat sounds to be found on analog tape, trots out the family. With the unstoppable Sharon Jones & The Dap-Kings headlining and the hard-hitting Budos Band and Charles Bradley also on the bill, an epochal moment of the great Brooklyn soul revival is clearly at hand.
Another great place to find terrific in Brooklyn is the
Martin Luther King Concert Series
in Wingate Field... past years Erykah Badu, Jill Scott and Lauryn Hill performed!!! The 2010 lineup in scheduled to be announced in a few weeks, so check this blog out in a few weeks... I might have added a few more shows!!
Peace (
And Music
) from Brooklyn!!!