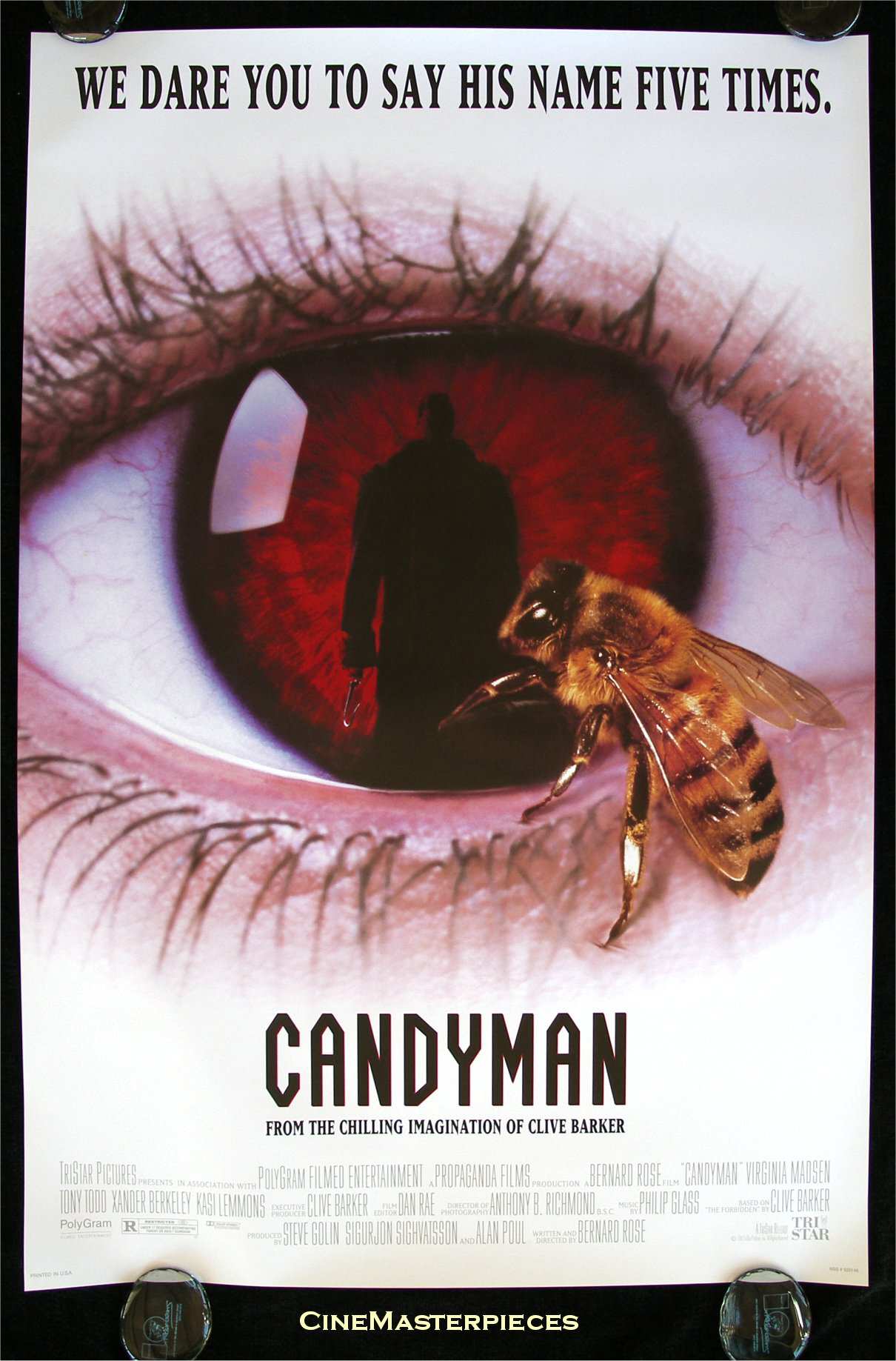 Halloween is one of my favorite holidays, and given the fact that I am a sucker of all things festive, that's saying a lot.
Inspired by the Food Network's Sandra Lee (
Cupcakes and Cocktails
), I decided to create a mouth-watering macabre menu to accompany a horror movie that will satisfy anyone's sweet tooth... "
Candyman
". Enjoy!!!
Friendly Ghost Cupcakes
Recipe Courtesy of
Recipe.com
Ingredients
3 cups Original Bisquick® mix
1 cup granulated sugar
1 cup packed brown sugar
1/4 cup butter or margarine, softened
2 teaspoons pumpkin pie spice
1/4 cup milk
4 eggs
1 can pumpkin (not pumpkin pie mix) (15 ounces)
1 package cream cheese, softened (3 ounces)
1/2 cup butter or margarine, softened
2 teaspoons vanilla
4 1/2 cups powdered sugar
2 teaspoons miniature chocolate chips
Directions
1. Heat oven to 350 degrees F. Line 24 regular-size muffin cups with paper baking cups.
2. In large bowl, beat Bisquick mix, granulated sugar, brown sugar, 1/4 cup butter, the pumpkin pie spice, milk, eggs and pumpkin with electric mixer on low speed 30 seconds. Beat on medium speed 3 minutes. Divide batter evenly among muffin cups.
3. Bake 25 to 30 minutes or until toothpick inserted in center of cupcake comes out clean. Cool 5 minutes; remove from pan to wire rack. Cool completely, about 30 minutes.
4. Meanwhile, in large bowl, beat cream cheese and 1/2 cup butter on low speed about 30 seconds or until well blended. Beat in vanilla and 2 cups of the powdered sugar on low speed about 30 seconds or just until mixed, then on high speed about 1 minute or until fluffy. Beat in remaining 2 1/2 cups powdered sugar, 1/4 cup at a time, on medium speed. If too soft to mound, add additional powdered sugar, a tablespoon at a time, until desired consistency.
5. Spoon frosting into large resealable plastic food-storage bag; press out air and seal bag. Cut 1/2-inch tip from lower corner of bag. Squeeze bag to pipe about 2 tablespoons frosting into ghost-shaped mound on each cupcake. Press 2 chocolate chips, flat sides out, into frosting for eyes.
Bumblebee Banana Cupcakes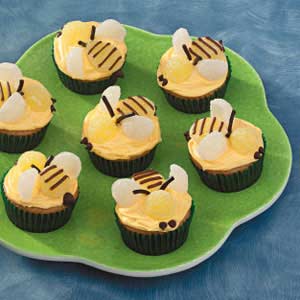 Recipe Courtesy of
Group Recipes
Ingredients
* 1 package (14 ounces) banana quick bread and muffin mix
* 1 cup milk
* 1/2 cup vegetable oil
* 2 eggs
* 1 can (16 ounces) vanilla frosting
* 5 drops yellow food coloring
* 12 large yellow gumdrops
* 1/2 cup chocolate frosting
* 12 semisweet chocolate chips
* 24 miniature semisweet chocolate chips
* 12 large white gumdrops
* Black shoestring licorice, cut into 1-inch pieces
Directions:
In a large bowl, combine the muffin mix, milk, oil and eggs.
Fill 12 greased or paper-lined muffin cups two-thirds full.
Bake at 375° for 15-18 minutes or until a toothpick comes out clean. Cool for 5 minutes before removing from pan to a wire rack to cool completely.
In a mixing bowl, combine vanilla frosting and food coloring.
Frost cupcakes.
Cut yellow gumdrops in half widthwise.
Use the rounded tops for heads.
Flatten remaining portions into ovals for bodies.
Place one head and one body on each cupcake.
Place chocolate frosting in a resealable plastic bag; cut a small hole in a corner of the bag.
Pipe stripes on gumdrop bodies to resemble a bumblebee.
For the stinger, place one chocolate chip at the end of body with pointed end facing out.
Position two mini chocolate chips in front of head for eyes.
Cut white gumdrops in half lengthwise; position next to bodies for wings.
Witch-in-a-Ditch Halloween Cupcakes
Recipe Courtesy of
The Knead for Speed
Ingredients:
* 2 cups sugar
* 1-3/4 cups unbleached all-purpose flour
* 3/4 cup Hershey's Special Dark cocoa
* 1-1/2 teaspoons baking powder
* 1-1/2 teaspoons baking soda
* 1 teaspoon salt
* 2 eggs
* 1 cup skim milk
* 1/2 cup vegetable oil
* 2 teaspoons pure vanilla extract
* 1 cup boiling water (or coffee, to intensify the chocolate flavor)
* frosting
* sprinkles
Witch Legs
* 8-1/4″ straws, cut into thirds (2-3/4″ for each witch leg)
* Tootsie Roll Midgees (one per boot)
* Wilton yellow sparkle gel frosting
Directions:
1. Heat oven to 350°F. Grease or line two cupcake tins.
2. Stir together sugar, flour, cocoa, baking powder, baking soda and salt in large mixing bowl. Add eggs, milk, oil and vanilla; beat on medium speed of electric mixer just until combined. Stir in boiling water or coffee (batter will be thin). Pour batter into prepared tins.
3. Bake 20-22 minutes or until done – cupcakes should spring back slightly to the touch. Let cool completely before frosting.
4. Frost and distribute sprinkles on cupcakes.
5. Cut each straw into thirds. To form boots, microwave each Tootsie Roll on high for 7-8 seconds. Mold into the shape of a boot and let cool slightly. While its still soft, insert straw into top of boot, rotating straw as you apply pressure. Set aside and repeat with remaining witch legs.
6. Draw boot laces and/or buckles onto each cooled Tootsie Roll boot with yellow gel frosting. Let it sit to dry a while. Then insert two witch legs, boot side up, into each cupcake.
Sweet Skull
Ingredients
* 12 marshmallows
* Confectioners' sugar
* 24 unfrosted cupcakes (white or yellow works best)
* White frosting
* Junior Mints, chocolate chips, and slivered almonds
Instructions
1. Cut the marshmallows in half widthwise using kitchen shears dipped in confectioners' sugar (this keeps them from sticking).
2. Sweet Skull - Step 2 Carefully pull each cupcake liner partially away from the cake and tuck half a marshmallow between the paper and the cupcake to create the skull's jaw.
3. Frost each cupcake and marshmallow, then add Junior Mints with white frosting dots for eyes, a chocolate chip nose, and slivered almond teeth.
Vampire Bite Mocktail
Recipe Courtesy of Sandra Lee,
Food Network
Ingredients
* 2 cups cranberry juice, chilled
* 1/2 cup apple juice, chilled
* 1/4 cup grenadine
* 1 1/2 cups seltzer water, chilled
* 1 tube red candy gel
* 4 gummy vampire teeth
Directions
In a pitcher combine the cranberry juice, apple juice and grenadine. Stir together then add the seltzer water.
Squeeze the candy gel onto a small plate. Rim the edges of 4 low-ball glasses in the candy gel. Pour in the drink evenly into the glasses. Garnish each glass with the gummy vampire teeth and serve.