Anyone that knows me knows that Cree Summer is the absolute bees knees to me! I've admired her for decades now, and she continues to remain one of my biggest role models!
Cree has been panned for her unconventional style by fashion critics in the past, but I happen to love her style (Of course
I am
biased on the subject!) I happened to stumble across this picture of Cree (With Esthero and Mikki Willis, I believe) from the 2007 Elevate Film Festival and immediately knew I wanted to recreate the look!!
The blazer I selected to recreate the look was the
Icon Collection Snap-Close Suiting Jacket
($118,
Lane Bryant
)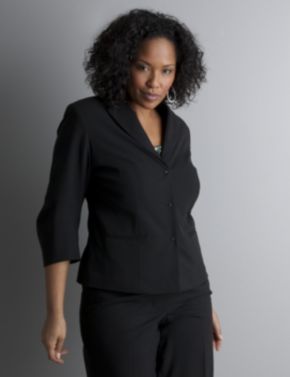 For the shorts, I selected the
Striped Cotton Linen Tie Short
($17.99,
The Avenue
)
It's super easy to add your own skull patch... I chose the
Large Skull & Cross Bones Patch
($12.00,
Rockstar HQ
)
For a bit of bling, you can instead choose the
Skull Jolee's Jeweled Accents Crystal & Metal Iron-On Motif
($5.80
Stuff4Scrapbooking
)
Now the necklace, Cree probably got from
Aklia's
, courtesy of Aklia Chinn, Pirate Blue Bead herself.
To recreate this look, however, I selected the
House of Harlow 1960 Abalone Sunburst Necklace
($80.00,
Shop Bop
)