I used to be the Graphic Tee Queen... I used to wear them all the time with jeans, trousers and skirts. Last year, when I decided to revamp my wardrobe, my graphic tees kind of ended up chilling in my closet for months without being worn. And frankly, I miss 'em.
I've been thinking that a great way to incorporate my old style with my new style is to pair a great graphic tee with a blazer.
Zoe Kravitz
And you know that if Tracee Ellis Ross is rocking the combo, I'm convinced! LOL
So my first objective is to scout for a really nice blazer! I have a few already, but it doesn't hurt to get some more. My first find the 3/4 sleeve jacket ($64.99,
Lane Bryant
)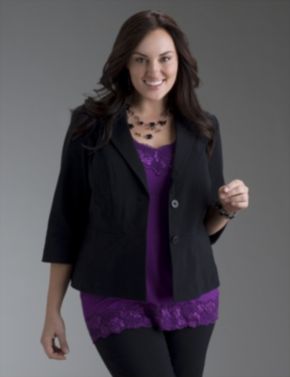 Another pick (an admittedly expensive one at that!) is the Calvin Klein Plus Size Jacket, One Button Luxe Stretch ($109,
Macy's
)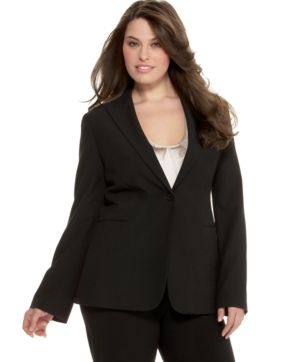 I also really like the "Jennifer" Blazer ($69.99,
Roaman's
) ... in fact, her entire look pretty much sums up how I want to incorporate my tees with a blazer and jeans.. love the jewelry choices!
And now for my favorite part... the tees!!!!!!!!! The first one that caught my eye is the FREE ROCK 'N' ROLL Off-shoulder tee ($24.90 - $26.90,
Alloy
)
The next and last tee is the White Owl Textured-Knit Tee ($28.,
Torrid
)
I would pair these with jeans or even a nice pair of slacks... I have the accoutrements to create an similarly inspired look (translation: I have a blazer and tee shirt! lol), that I will be attempting next week, so be on the look out... you might see a 'What I'm Rockin' post soon!